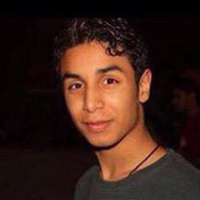 Saudi Arabia is about to execute Ali al-Nimr, a young man arrested in 2012 for taking part in a demonstration when he was just 17 years old. Amnesty International confirmed that Ali al-Nimr and two other young Shi'a activists were moved to solitary confinement in al-Ha'ir prison in Riyadh on October 5.
Ali was allegedly tortured. He has claimed that he signed a confession under duress, and was denied the right to a lawyer when charges were first brought against him. His lawyer was not informed of court hearings. The signed "confession" is the only evidence against him.
In sentencing Ali, a juvenile offender, to death, Saudi Arabia has violated its obligations under the Convention on the Rights of the Child, which bans capital punishment for people under 18.
Ali al-Nimr is the nephew of Sheikh Nimr Baqir al-Nimr, a prominent Shi'a cleric from eastern Saudi Arabia who was sentenced to death in October 2014. Tensions between the Saudi Arabian authorities and the country's Shi'a Muslim minority have increased since 2011 when, inspired in part by popular protests across the Middle East and North Africa, some citizens in the predominantly Shi'a Eastern Province stepped up calls for reforms.
Saudi Arabia is one of the most prolific executioners in the world. So far this year, it has executed at least 134 people, including individuals who were younger than 18 when they committed their crimes, and people with intellectual disabilities.
All appeals against Ali's execution have been exhausted. He could be executed as soon as the King of Saudi Arabia, Salman bin Abdulaziz Al Saud, ratifies his sentence.
Saudi Arabia must not execute Ali al-Nimr. Take action now to save this young man's life.