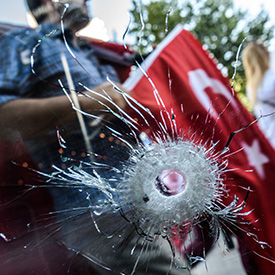 In the wake of the failed coup in Turkey, the Turkish government has unleashed a dangerous crackdown.
From purging the country's academic leaders to shutting down news outlets, hard-won human rights victories are under serious attack.
At least 260 people were killed and more than 2,000 injured amid the failed coup attempt, according to government accounts.
Many news websites have been blocked, arrest warrants have been issued for journalists (some of whom are now in detention) and tens of thousands of people have been suspended or removed from their jobs – including police, judges, prosecutors and others.
Even when a country is under a state of emergency, the government's actions must be proportionate and must serve a legitimate purpose. The Turkish government's actions leave little room for doubt on their intent: silencing criticism without regard to international law.
Sign the petition to President Erdogan of Turkey to tell him end the attacks on freedom of expression.